Since our humble release of version 0.2 of Tainacan Plugin at the Fórum Internacional de Software Livre, we had few time to show off our most recent releases. Since then, more and more people are trying out Tainacan development version and we're seeing the first museums to have their digital repositories exposed through Tainacan.
So let's take a break to make justice to the features and enhancements that are coming out, after all, they deserve it 😉
New features
Blue is for Repository, Turquoise is for Collection
First thing that may blink upon your eyes is our brand new color scheme for Tainacan's administrative panel. This is result of a long-heated-heads-rolling discussion with our design team to come up with a clear solution for distinguishing well Repository and Collection level pages. On Tainacan, Repository Metadata and Filters are inherited by Collections, and you may now have a better notion of that: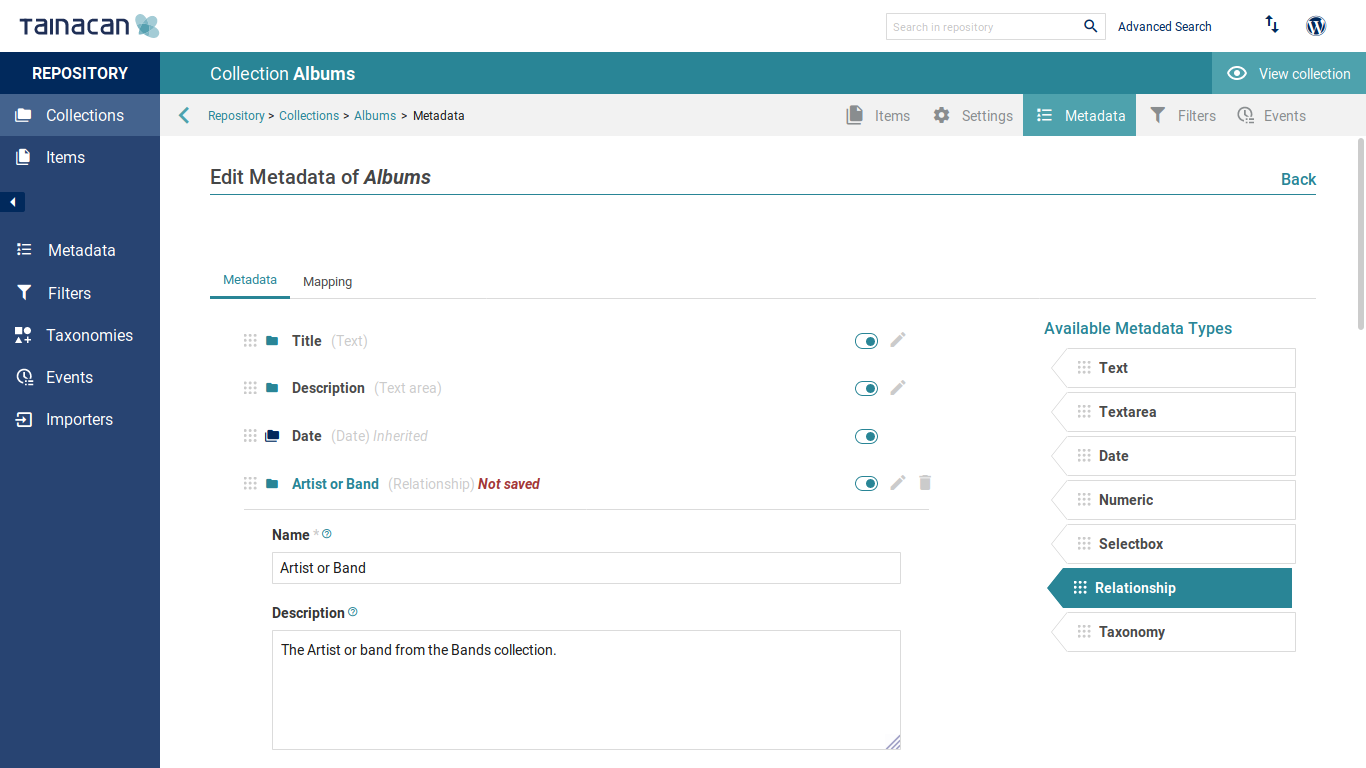 Besides that motivation, the new color scheme brings a modern look to provide a pleasant and efficient user experience while working with your digital repository.
Better Filtering
Items listing, search and filtering also received significant improvements. Simple text search will now look up for strings in every item metadada, including relationship ones. You will also notice that every filter now adds a tag above the search control to provide a better vision of which queries are being used, and a quick way to get rid of them.
Finally, for those who need to filter among huge lists of checkboxes, we now implemented a better navigation interface for that, which works well on with hierarchical terms and metadata values listing: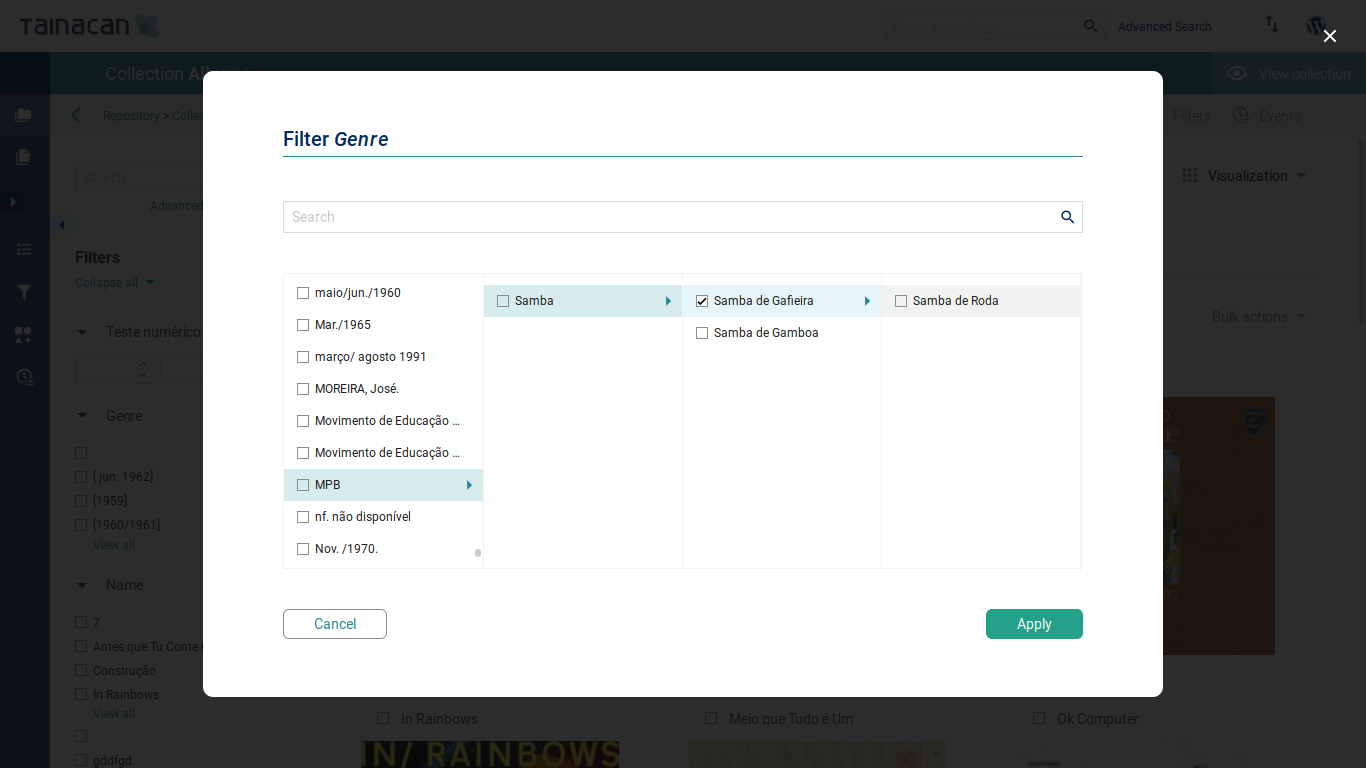 This modal also appears on Item Edition Page, when metadata which input type is a checkbox or radio buttons list is edited.
Advanced Search
One might be well served by filters and simple text search, but sometimes that isn't quite enough.  That's when Advanced Search comes in. Through it's form you can add search criterion based on any metadata from a collection or repository. Different input formats will be offered to you according to the selected metadata type, and some handful comparators such as "Equals", "Not equals", "Contains", "Less than or equal to"… and so forth. Of course, this will also be available on your theme Items listing.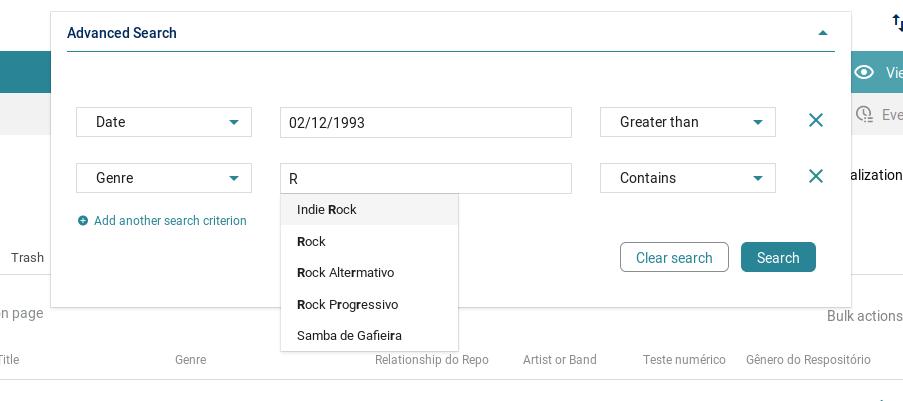 Importers Interface
Creating an entire collection can be tough and almost unfeasible once you're talking about thousands of items with dozens of metadata each. That's why having different Importers is a core feature that we've being working on. Now you can finally import full collections or new items to an existing one, through a set of different importers. So far we've backed a CSV Importer, that is able to identify special attributes to be directly converted into Items main document and attachments and also an Old Tainacan Importer, for all the enthusiasts that have been working with Tainacan from the very first prototype.
The Importers are also documented on GitHub to anyone interested in helping creating it's own importer. What about migrating your Flickr Gallery to your website? Or maybe give your DSpace data a new home? That's all coming soon. For now, one thing you can do with importers such as CSV is to map metadata from source file to a collection. That's right, in case you have an existing collection with text, taxonomies, numeric attributes, etc, you can specify each imported attribute to it's desired metadatum.
Importing is performed asynchronously, as a background processes, so you can keep working on your website while it's doing the dirty work. Oh, and by the way, you can check their status in the new Processes Popup: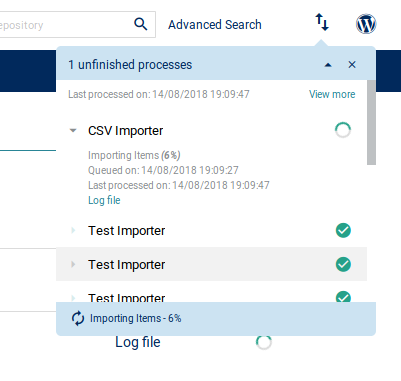 Mappers
As important as filling your collections with relevant data, you'll probably be interested on having it's metadata well organized into standards, such as Dublin Core. The use of a schema is very common in repository administration and it's now available in the Mappers tab, alongside the Metadata list of each Collection. Other standards will be added in the next releases and you can adventure yourself creating one following our documentation.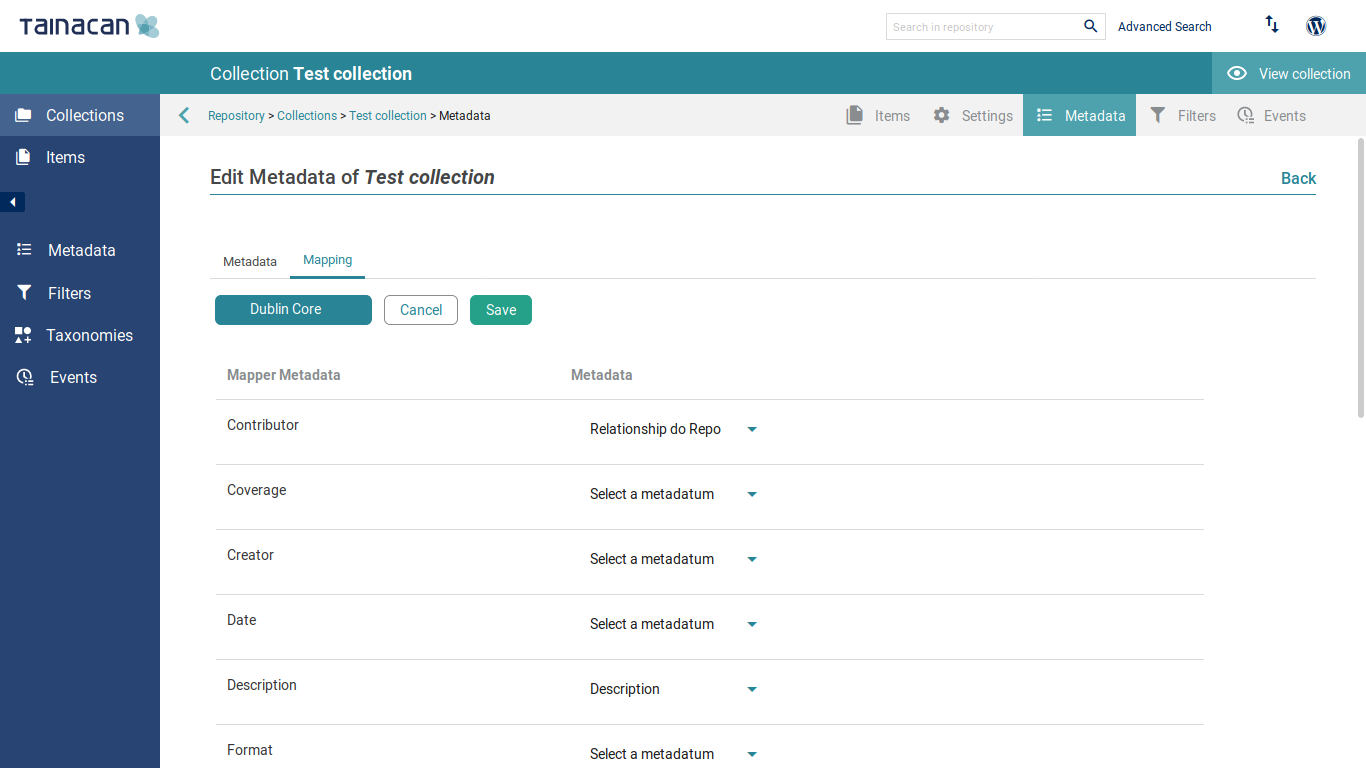 Full screen Slideshow
For those using Tainacan Theme or any other theme that supports Tainacan, it is now also available a new view mode: The Slideshow. Slideshow is the first full screen view mode, which allows you to better spotlight your items. Instead of a thumbnail, the document itself is shown, be it an image, a PDF file, an audio file or even a YouTube link. The metadata,  of course, are still available right beside. And if you are not willing to click "next" for every item, the automatic reproduction will switch to the next item every 5 seconds.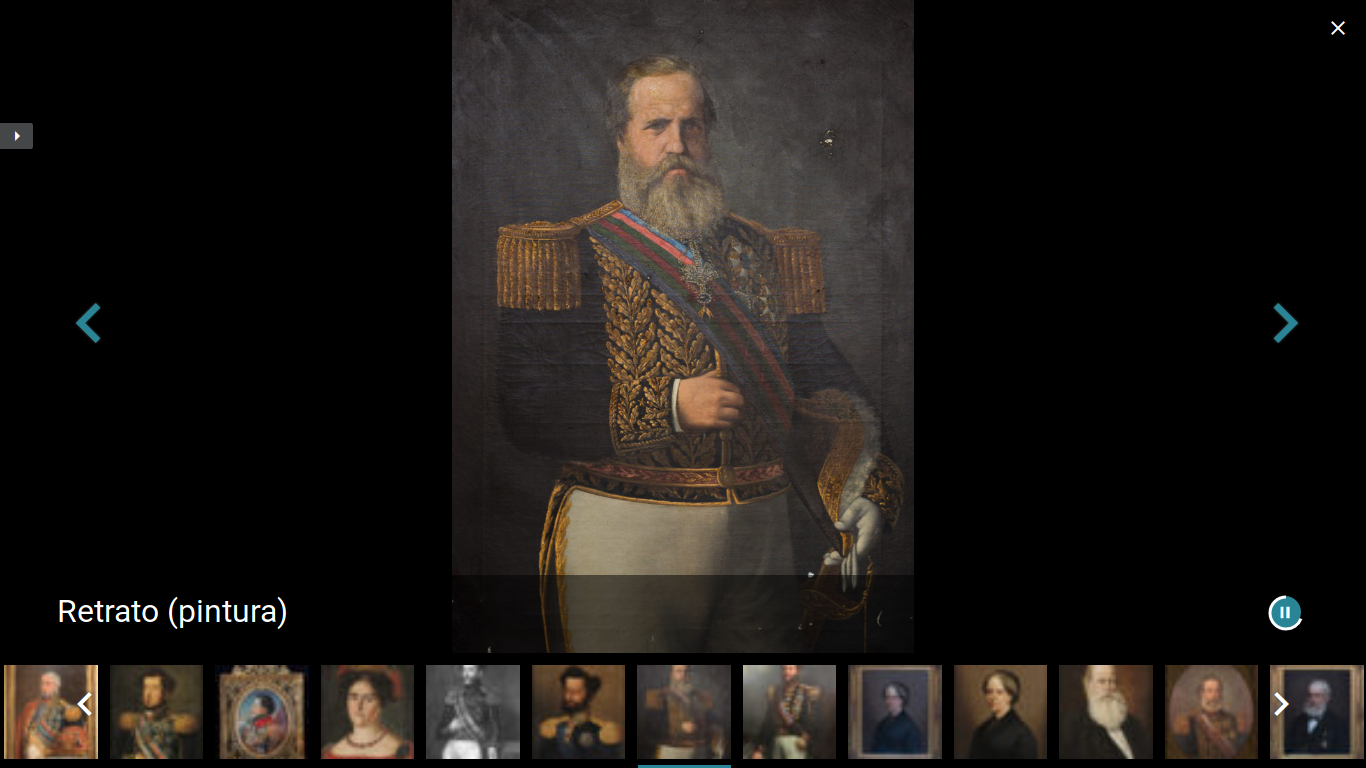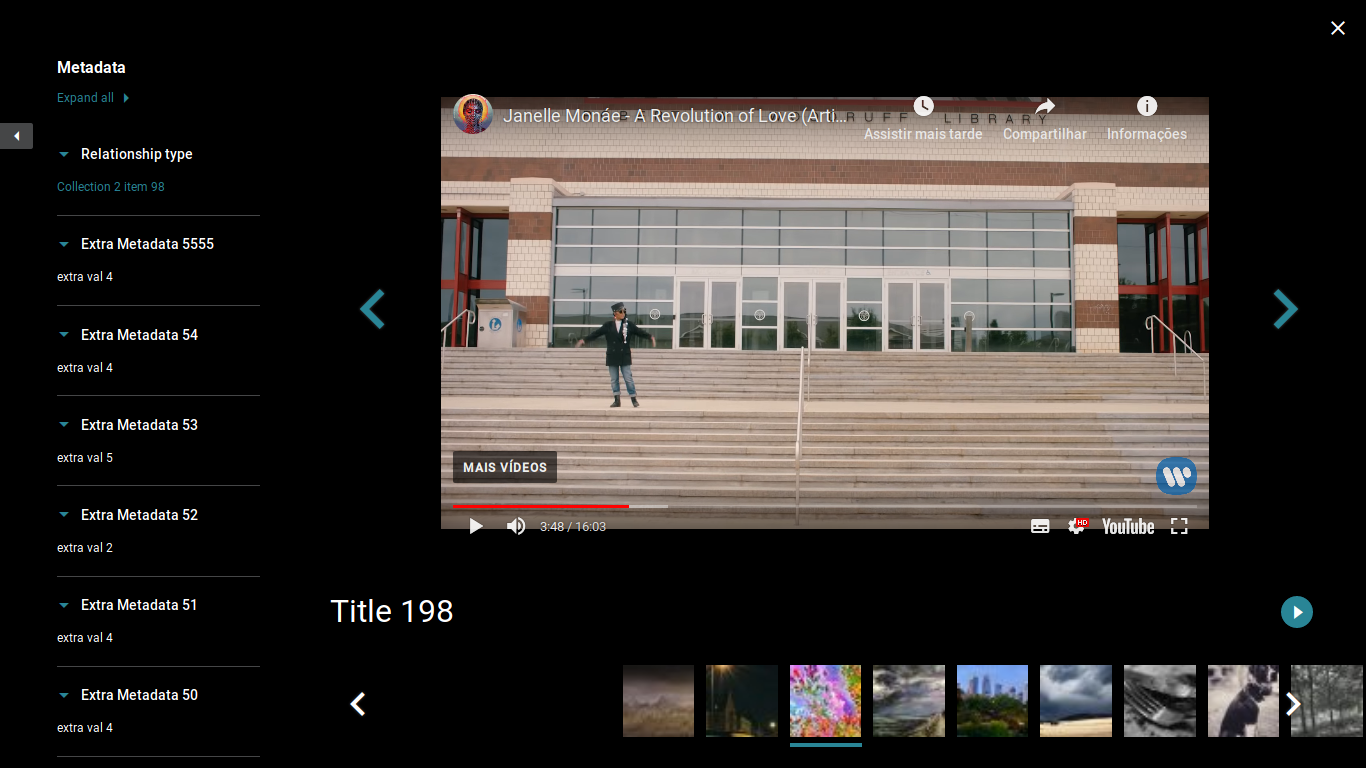 Sequence Edit
Bulk editing items has the advantage of setting a value to a certain metadata on many items. But sometimes, we want to edit a set of items, one after the other, just like when you finish adding new items at once. In such situation, we can select items and sequence edit then: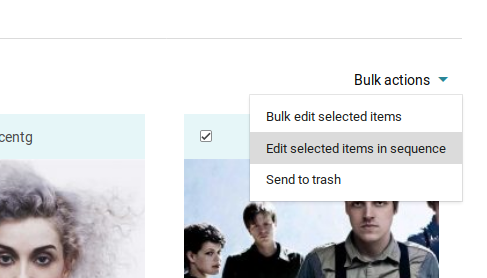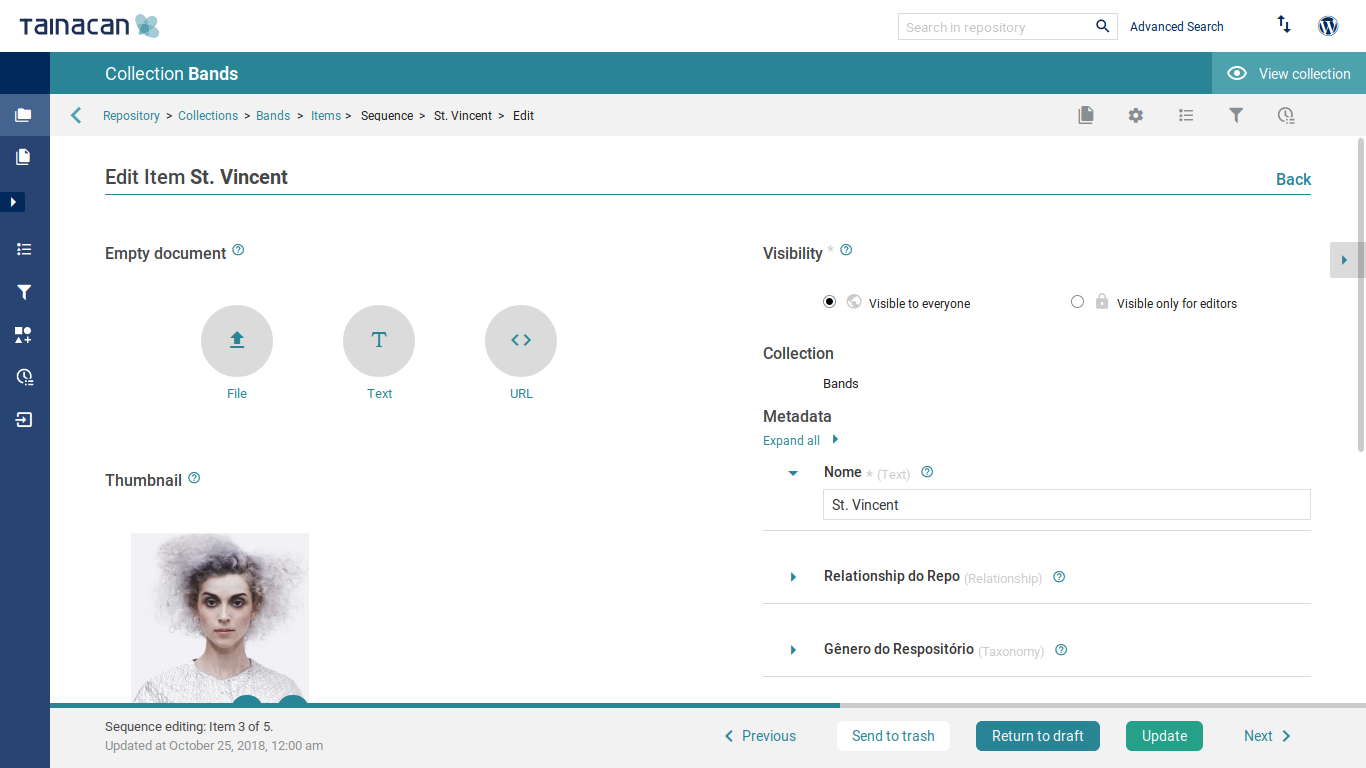 Get it now!
Tainacan Alpha 0.5 is already available on the official WordPress repository, and you can get it with one simple click installation: