WordPress has just released it's new version, featuring big changes to it's content editor, allowing the creation of posts with greater ease on layout configuration and multimedia insertion. Instead of the classic text editor with buttons for bold and italic formatting, the new WordPress allows you to create freely a page building it's visual from customizable blocks, providing more freedom and expanding the possibilities.
Tainacan it's ready to WordPress 5.0, offering a block of content that allows you to insert items from a collection directly into the new content editor. This means that in addition to allow creation and management of digital archives, Tainacan helps creating narratives that engage the public to browse through the repository.
Check out how to insert Tainacan items during post creation:
1. Access Tainacan plugin admin and copy and paste the URL on the item's listing page (including the filtering that you wish):
2. Go back to your WordPress panel and edit or create a new post on "Posts" > "Add New":
3. At the top left corner , add a new "Tainacan" block and paste the URL selected on step 1:
4. Select the amount of items that you wish to show and other options on the right panel:
5. Continue the compositing of your publication. When done, press "Publish"!
6. Visualize your post! Enjoy the blocks from the new content editor to create multimedia narratives and engage your public.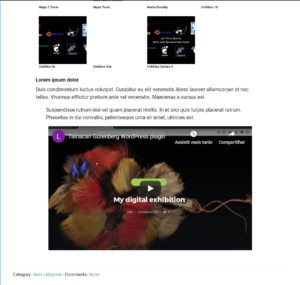 This is just the first content that we've created. The idea is that, through time, we'll launch many other blocks that allows listing items from other ways, pick and highlight an specific item, list collections, list terms of a taxonomy, list facets of a metadata and many other possibilities. and of course, any person can develop a plugin that implements new Tainacan blocks!
Note: The new features are only available with version 5.0 of WordPress, to see how to update your installation, check out this link.