We enter the second half of 2019 with a release full of news and some features much anticipated in this new version of Tainacan!
New Features
New plugin: PDF Exposer
It's been a while that we are able to "expose" a list of items in different formats, such as a pure HTML table, a CSV file, or even through our JSON API. However, within the museums that work with Tainacan, it has always been a demand to display their items in a PDF file in order to generate a sort of report of their collection. This is now possible with the PDF Exposer plugin.
But wait, a plugin for the plugin? Yes! It is part of our development philosophy to try to make Tainacan extensible through plugins. That's because a function like this – generating a PDF of your items – requires more components that may be unnecessary for those who don't need this feature, leaving the plugin unnecessarily heavy. Therefore, for those who want to make use of this function, you will need to install the plugin. But don't worry, the process is simple and we explain everything here.
Once installed, you can configure some information that will be displayed in the PDF file by the WordPress admin panel. Then just go to any list of items, go to the alternative URLs mode and select the new available format:
New Block: Items Carousel
For those who are tired of tediously stalled blocks in your post or page, we finally present the first Tainacan carousel block! With it you can configure either an item search (similar to the dynamic items block) or a manual items selection. Note that the carousel has no effect on the WordPress editor, you must preview or publish your post to see it in action.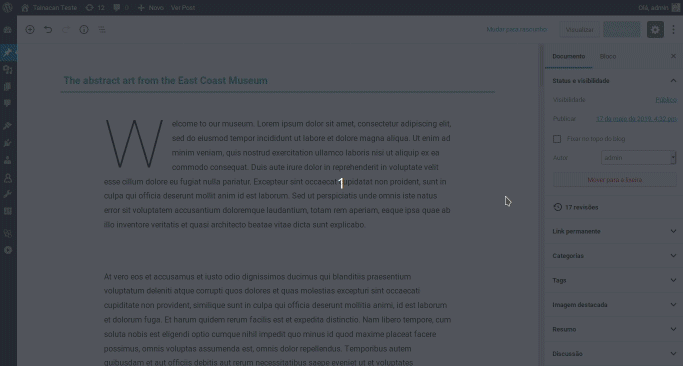 Available settings include automatically moving items, controlling the time to move to the next item, and the position of the arrows.
New Block: Items Search Bar
While creating your narrative with gutenberg blocks, you most likely want to leave a search bar available for the reader to explore a collection. This is already possible today with the dynamic items block, but inside it the items are displayed within the post itself, as a more limited and focused version of the full item list. To redirect your readers to a full search using a search field, we suggest the new Items Search Bar block. In addition to this functionality, it also offers different styles and advanced customization for you to present your collection with all the pomp it deserves;)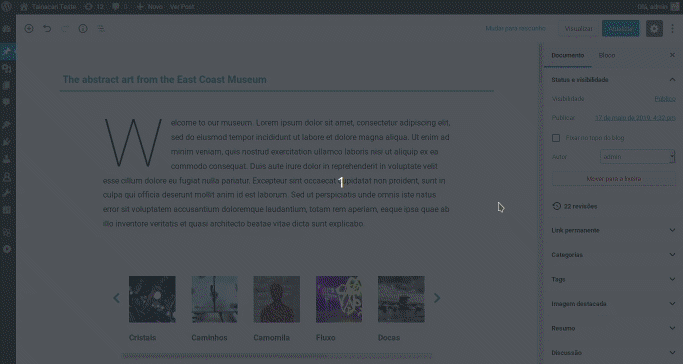 Privacy of Files on Tainacan
In this release we invested in the security of private items and collections. Until version 0.10, private items documents and attachments remained open for external access if anyone had access to the address of these files. This was a sensitive issue because, although the file addresses were not visible anywhere, it meant a vulnerability in the way the files were stored.
From now on, files are organized into folders separated by collections and items, and any private item will have its files accessible only to the Tainacan application, and cannot be accessed via URL if you are not authenticated. Private items that were created in earlier versions of 0.11, however, need to be updated. We have instructions on how to do this and further explaining this whole question on our wiki: https://tainacan.github.io/tainacan-wiki/#/dev/private-files
Better performance
We have been working hard to improve the performance of Tainacan. In this release you will (we hope) feel a significative reduction in the time it takes to load the items list!
Usability
Creating Item Copies
Ever wanted to CTRL + C / CTRL + V an item, or create a bunch of items using another as a reference? Well, the copy creation feature is finally here! Just right-click on any item in a list to select the option. The copy modal will ask how many copies to create. This will generate as many drafts as you wish, and then offer you sequence or bulk edition of the generated copies. Very useful, isn't it?
Advanced Search from a Term Name
In our Advanced Search form, when searching for a taxonomy, you had to select term by term using an auto-complete tool. Now this is simpler, just type as much as you want from the term name, and a textual search on them will be performed.
Full Hierarchy on Terms
Okay, so this item is from the Insect Photos category, but did you know that Insect Photos is part of a larger set involving other terms, the Nature Photos? This kind of question is now easy to get rid of by presenting the full hierarchy of terms in an item's metadata view:

Improvements on Access to Alternative URLs
The so-called "Exhibitors" or Alternate ULRs, such as the PDF Exposer plugin commented above, are now accessed via a discreet button labeled "URLs" in the list of items. After a series of discussions, we agreed to change this name to "View as …", making it clear that we are offering different ways to view the data exposed in this list. This button is now also available on an item's preview page in the Tainacan admin panel, allowing you to expose a single item and its metadata:
Speaking of the modal "View as…", a new option is available to choose whether all metadata should be shown in this list or only those that are visible in the list of items.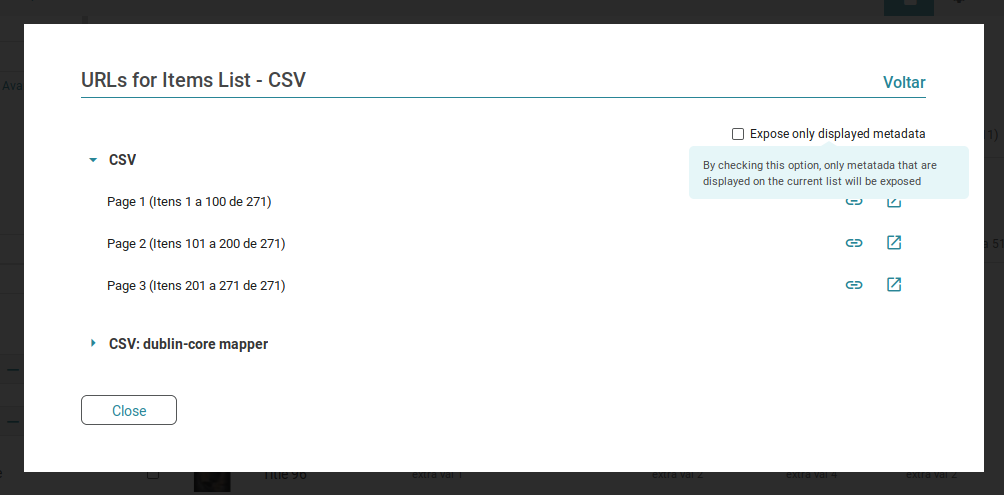 Reorganization of Items Page and Items Edition Page Layout
We took a little revamp at the item and item edition pages, putting the option to enable comments next to visibility and moving the attachments to a tab where they will have more room for managing large lists. This, along with some spacing adjustments, should improve the usability of these pages so important to our plugin: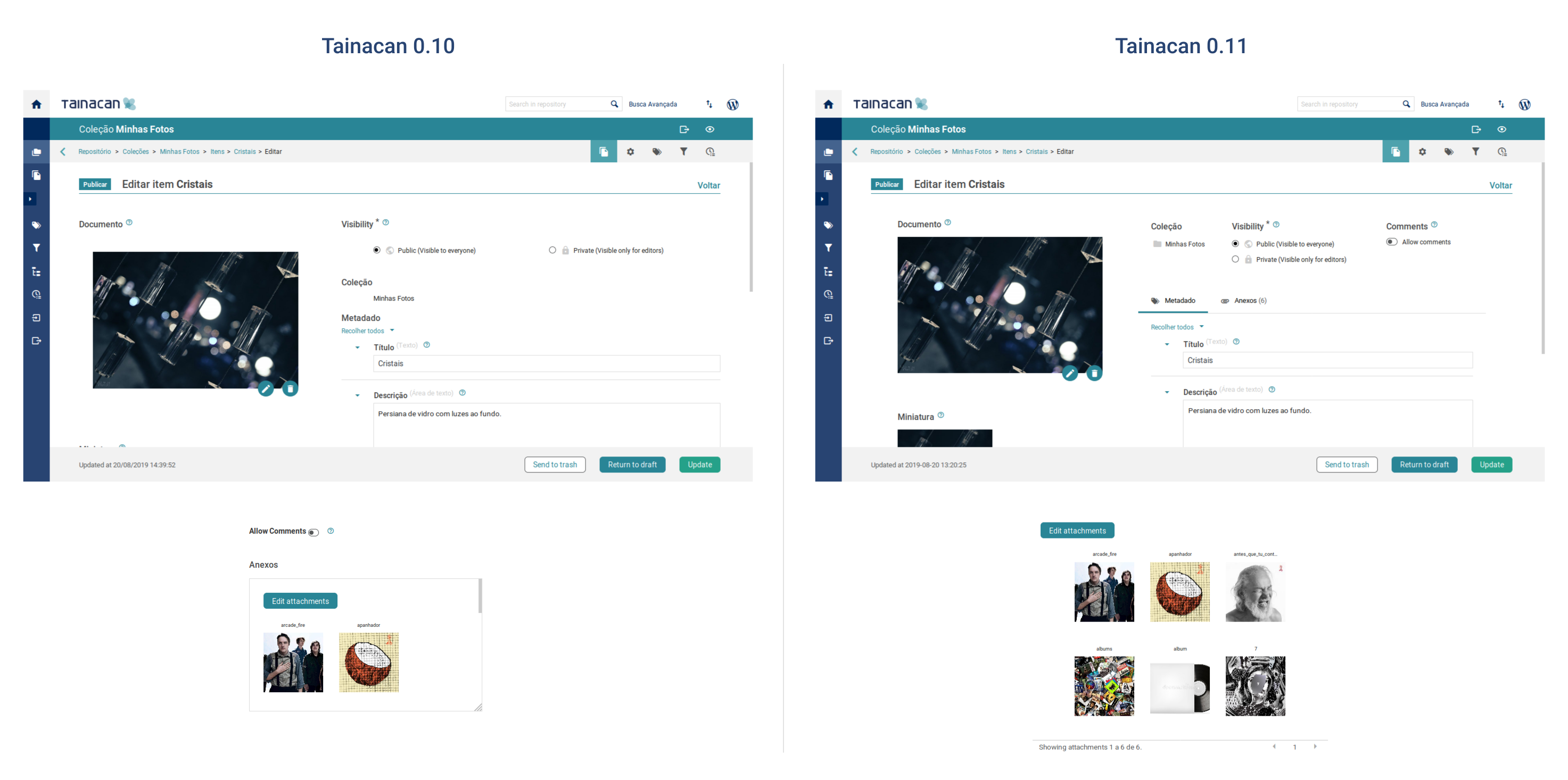 Simplified Sequence Edition
A simple tweak should also improve your in-sequence editing experience: next buttons now apply the desired changes or status changes, no need to click on some "update" button before moving on to the next item.

And… what else?
Pagination in item attachment list
"Create another" option on Taxonomy edit form
More efficient warnings for custom metadata sorting that can exclude items from the result list
New CLI Commands: Delete All Items in a Collection and Migrate to New Private File Folder Organization
Lots of bug fixes and interface tweaks!
Get it Now!
Tainacan version 0.11 is now available. You can download it or upgrade directly from your WordPress dashboard: