I know, I know, we thought the 0.18 cycle would end sooner… but the good news is that we are closing the year with a golden key: we have new versions of the plugin, the theme and extra plugins to celebrate the end of another cycle that, let's face it, was not easy! They are small adjustments and features that should improve the usability of Tainacan and solve demands raised by the community in our discussion forum.
---
Tainacan Beta 0.18.7
Performance
This time we'll start with a new feature that may impact users at first glance, so it's worth warning: just as was done in version 0.18.3 with the Gutenberg blocks, in this version we are changing the way the Tainacan admin panel is loaded. In practice, this implies that the scripts related to it only come into play on your site at the moment you access the page, reducing the amount of files that must be loaded.
This change, however, may cause your panel to appear blank the first time you access it after upgrading. Don't worry, this is common because browsers usually keep previous versions of the script in cache memory. To get everything back, simply reload your page without the cached memory. In general, in browsers this can be achieved by pressing CTRL + SHIFT + R.
Any questions about this, be sure to give us a shout in the forum. Now let's get down to business:
What's new?
Shortcuts to Tainacan Admin from the WordPress bar
Have you ever been on the public page of an item and wanted to correct a metadata that is wrong? Or in the item list and wanted to add an extra filter? And then had the sad conclusion that you would have to:
Log in to the WordPress admin panel;
Log in to the Tainacan administrative panel;
Find the collection you want to change;
Find the item or the filters page …
This painful path can now be bypassed by using the shortcuts in the WordPress admin bar. If you are logged in and have permissions to edit the item or collection in question, you can easily jump to the admin panel by clicking on them:
Sort Collections and Items by "last updated"
Logging into Tainacan's Administrative panel and finding a small number of collections sorted by creation date can be a bit frustrating for those who have many collections and often work on the first ones they created. So now this list is sorted by "modification date". And to hook it up, the new sorting option will also be available in the full collections list and in the item lists within the admin panel.
Choose default sorting for a list of items
Possibly one of the oldest requests to be fulfilled in this release, we can finally configure in the collection which metadata should be used as the default initial sorting in the item list.
This means that users who have just accessed their list for the first time in the public part, will have the items presented as configured there. However, it is worth pointing out that as soon as you change this sorting once, it will be saved in the user's preferences, and saved as such.
Better contextualizing a search with "Read-only Tags"
We recently brought in some changes to the filter tags, which should help to better contextualize how the actual search is going. These tags indicate by which metadata a certain value is being filtered and appear as soon as a filter is applied. There are some situations, however, where we do not have filters but some "filtering" is being applied. An example of this is when we configure the taxonomy metadata so that the links to its terms lead to the list of terms filtered only by one or another collection. In this case, in the URL itself, a filtering is configured:

In this case a "Read-only Tag" appears, which cannot be removed, but also helps to contextualize the search, even in scenarios where it has been set by the URL instead of by the user interface filters.
Items selection across pages
Selecting which items you want to apply a bulk action to is a simple task to do when you have items in sight, but this is not always the case. When switching pages or applying a filter, any selection is lost, which can be quite frustrating. Now this selection will be kept, but with some new elements in the interface to help you understand what is going on:
Notice, in the center, the information of how many items are selected. When you change page or apply filters, the selected items may not be on the current page, so it is indicated that some are in another context. By clicking the "x" you can clear this selection by deselecting all.
Filter by selected items
And to complement this feature of the cross-page selections, by having the items marked you can use the bulk action menu to apply a filter that will show only the selected items. This will help you be sure of who is marked before you do anything silly 😉
Metadata placeholders
To explain how to fill in a metadata in your item form, you can use the "Description" field, which will appear in the help button next to the metadata name. There are cases, however, where this information can be more objective, or even better understood if it is in the input field itself. This is the case, for example, with auto-complete entries, which can be made clearer with placeholders. Let's look at some examples: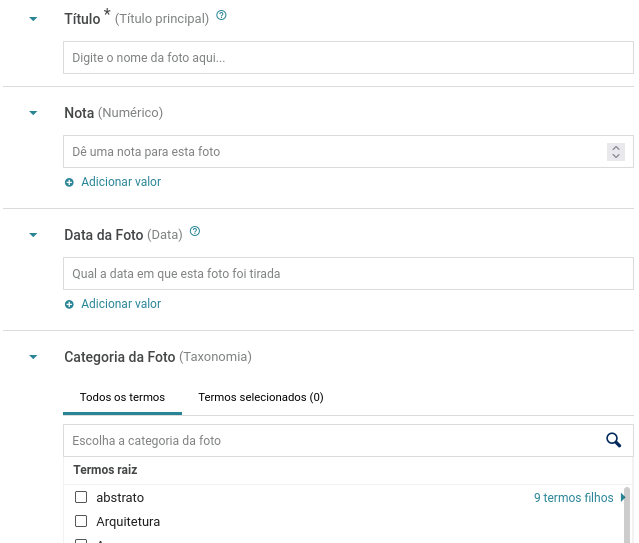 Note that for metadata whose input type is a simple checkbox list, this placeholder information will not appear. Another good news is that the item submission block will also receive this information 😉
To define the placeholder for a metadata, simply go to the metadata list and edit its settings.
Terms Agreement Confirmation in the Submission Block
And speaking of the submission block… another feature that can be expected from a form like this is that traditional option at the end of "I agree to the terms of this site to submit my information…". Although some people had already done this with metadata, we decided to implement an official option in the block, which even prevents submission until it is accepted:
We also allow editing of this text so that links can be added to pages where you might want to make the terms more explicit – or worse, put everything in an awful red color.
Improvements
Block transformations
Diving further into the world of the block editor, Gutenberg. One feature that not many people know about is that of transforming one block into another. Just click on the paragraph block icon, for example, to see how easy it is to turn it into a list, a title or a quote without having to mess with the content. Finally the time has come to start taking advantage of this feature for our own blocks. To start, we are allowing the following transformations:
Items List -> Collection Items List;
Items List -> Carousel Items List;
Collection Items List -> Carousel Items List;
Carousel Items List -> Collection Items List;
O This means that you can now try out different views of the list of items, without losing the selection you made in the block and other settings such as alignment, colors, and font size.
Bye Bye Items List!
Três anos atrás falávamos sobre o lançamento do primeiro bloco do Tainacan, uma maneira um tanto quanto modesta de se inserir itens em qualquer página. Aquele bloco, a Lista de Itens usava de uma estratégia um pouco ruim para se selecionar os itens, pois não tirava proveito de como ela pode ser dinâmica, atualizando seu conteúdo caso os itens fossem alterados no Tainacan. Assim, pouco depois, lançamos um bloco capaz de tirar proveito disto, e o batizamos de Lista de Itens da Coleção. Este novo bloco recebeu muito mais opções, como novos modos de visualização e recortes. Agora, ele permite que a seleção dos itens seja feita tanto manualmente como por um critério de busca. Por isso estamos finalmente prontos para aposentar o nosso primeiro bloco. Mas fiquem tranquilos! O bloco continuará existindo e quem fez uso dele não terá nenhuma mudança. Na verdade o que fizemos foi "esconder" ele da lista de blocos a serem inseridos. Assim, nós recomendamos o uso do bloco mais moderno. E como mencionado agora pouco, se você quiser converter o bloco Lista de Itens para o Lista de Itens da Coleção, basta um clique para transformá-lo 😉
Three years ago we talked about the release of the first Tainacan block, a rather modest way to insert items on any page. That block, the Items List used a rather poor strategy for selecting items, as it didn't take advantage of how dynamic it can be, updating its content if the items were changed in Tainacan. So, shortly after, we released a block that could take advantage of this, and we named it the Collection Items List. This new block has been given many more options, such as new view modes and image clippings options. It now allows the selection of items to be done either manually or by a search criteria. Therefore, are finally ready to retire our first block. But rest assured! The block will still exist and those who made use of it won't face any changes. What we have actually done is to "hide" it from the list of blocks available to insert. We now recommend using the most modern block. And as just mentioned, if you want to convert the Items List block to the Collection Items List block, just one click is enough to transform it 😉
Tainacan Items in Non-Tainacan Blocks
It's also three years since Gutenberg arrived in WordPress itself, and soon we will see full site editing taking place in the new editor. Since then, many new blocks have been introduced to users, either officially from WordPress or via plugins, in particular blocks that offer different ways to display WordPress posts.
BUT Tainacan's items and collections are also posts, behind the scenes. Although we have our official blocks as a strategy to expose your collection, we don't want to limit the possibilities that the WordPress universe offers you. Therefore, starting with this version, blocks that display lists of posts of different types, will also be able to show collections and items from Tainacan. This opens the range to show items in different formats, with options and configurations that many times we haven't even imagined to implement.
Metadata Mapper and Importer Screen Improvements
Back to the Tainacan admin panel… If there is one screen that has been cobwebbed since its release, it is the Metadata Mapper screen, where standards such as Dublin Core and INBCM can be adopted. Although we still have technical improvements for the mappers issue, we took the cue to give this screen a visual makeup, making it look a little more like the importer's mapper screen.
The importer mapper screen has not been left out and has also been tweaked to reinforce which metadata is being selected, even in large lists:
And more…
Line breaks in metadata names when displayed in "expanded" mode;
Line breaks in metadata values in Checkbox type settings;
External images as document – new option in the document type URL form that makes it easier to use images hosted outside of your WordPress;
Display of full hierarchy in textual search results in the list of terms;
More efficient loading of items in the term and collection carousel blocks;
Improvements to MANY strings in the English translation;
Bug fixes
Spacing adjustments for checkbox lists that were hiding non-scrolling terms;
Prevents the creation of Taxonomies with the same slug;
Corrects the insertion of dates with a day in advance for places with positive time zone in relation to the meridian;
Corrects validation of dates in the CSV importer;
Fixed error where, if the constant TAINACAN_FACETS_DISABLE_FILTER_ITEMS was enabled, the search for facets returned private items even when not logged in;
In the item submission block, if the "show collapses" option is disabled, collapses now disappear even within compound metadata;
Also in the item submission block, clearer warning in the interface when the reCaptcha setting is missing;
Metadata "Created by" and "Created at" were not disappearing from the list of items when unchecked in the dropdown;
Activity list was not being displayed on the item screen;
Function that listed the metadata of an item for themes was not working when only one metadata object was passed;
Prevents embeds with invalid characters from generating warnings in the media gallery;
Developers-only
This version brings a few more new features for developers who want to try out extra features that we are cooking up:
Taxonomies for Collections
While it is not common to have repositories with multiple collections (in general this is an indication that the data can be modeled in a better way), there are situations where filtering collections by some categorization criteria may be desired. So we are preparing Tainacan to handle this scenario, so that if you create and associate a taxonomy with the post type tainacan-collection, a selector will appear in your collections list with the available terms: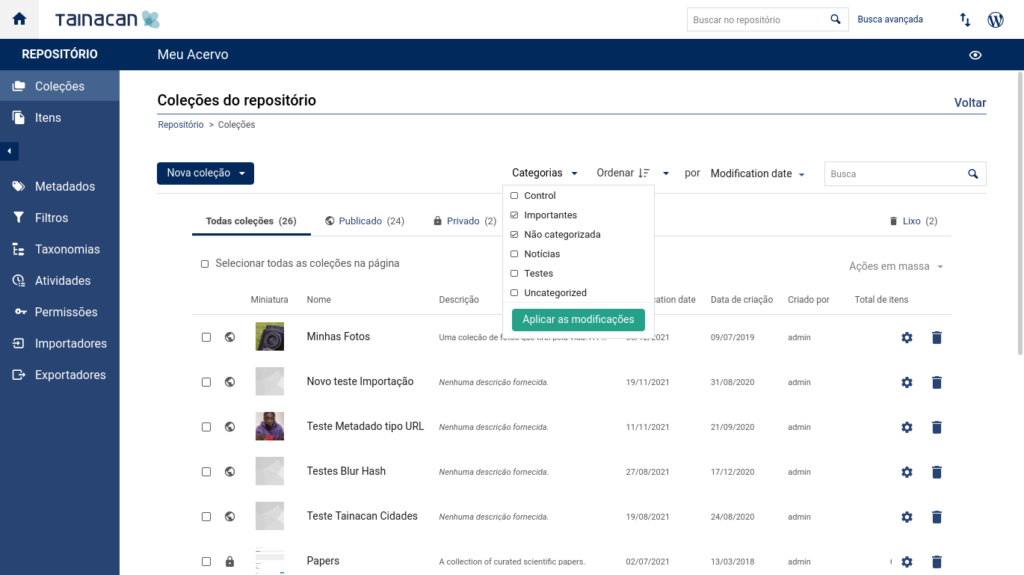 As for how to configure this selection of terms, we leave that up to the developers. There is one way to do this and that is to use Tainacan's Form Hooks, which is discussed in this thread on our forum.
Quanto a como configurar esta seleção de termos, deixamos por conta dos desenvolvedores. Há um caminho para isto que é o uso dos Hooks de formulário do Tainacan, que é discutido neste tópico do nosso fórum.
Searching in a relation of a relationship
Want to get your hands on something even more experimental but with great potential? How about going into your wp-config.php and enabling the constant TAINACAN_ENABLE_RELATIONSHIP_METAQUERY? With this constant, textual searches in the item list will look at the metadatum marked as "search metadata" on items in a related collection. But be careful because this has negative performance impacts, OK?
Internationalization
And finally, anyone out there want to explore Ancient Greek collections through Tainacan? Thanks to the work of two dedicated community members, Tainacan has just been made available in its fourth language!
---
Themes
Once again, both the Tainacan Interface theme and our Blocksy theme support plugin have received updates with minor fixes and minor new features.
For Tainacan Interface, we have:
Ability to display the "Items related to this" section as a grid or list of images, instead of carousels;
Use of css variables to control custom colors (which should improve performance overall);
Significant improvement of the customizer code;
For Blocksy, we have:
Also the possibility to display the "Items related to this" section as a grid or list of images, instead of carousels;
Redirection of the result of the search modal to the list of Tainacan items, if only search in Tainacan collections is enabled;
Option to change the default view mode for the item list of the terms and repository level;
Correction of error related to background color selection after theme update;
---
URL Metadata Type for Tainacan
Wait, there is more!
The "URL Metadata Type" plugin, which offers some advanced options for using links in metadata has just received two new features:
You can add a label to the link using Markdown formatting. For example, to link to this site with the name "Official Tainacan Site", just type: [Official Tainacan Site](https://tainacan.org);
Ability to display the link as a button! It's available as a metadata setting now, which will make the metadata values appear in your styled theme the same way the buttons in the Gutenberg block editor appear;


---
Get it now!
Tainacan version 0.18.7 is now available, as well as these new versions of the theme and plugins. You can download or update them directly from your WordPress dashboard: